Download:
Click here to download Pandora Keys from:http://samuelhaddad.com/downloads/pandorakeys/
Source Code:
https://github.com/SamPlusPlus/Pandora-Keys
Media Key support
Customizable keyboard shortcuts
Control Pandora from any application.
Auto updater for new features
Screenshots: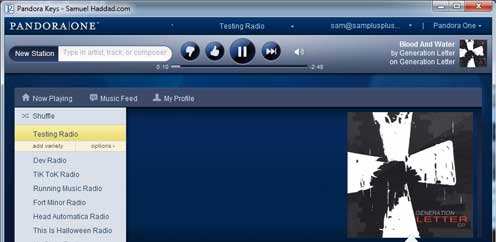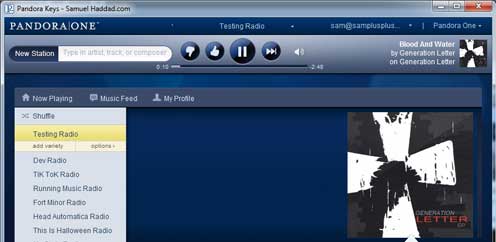 Requirements:
.NET 4.0
A Pandora.com account
Enjoy listening to music
Why Did I make this?:
I am a big fan of both Pandora, Jango and streaming music in general.  I think they are great. However I also feel that being a web based application they lack features that exist in a desktop media player. For example keyboard shortcuts and notifications are features I cannot live without.  After creating I  a desktop wrapper for Jango.com called Jango Desktop. I set out to create one for Pandora. There were already a few on the market, but I found they did not do what I wanted, or were no longer being developed. My favorite used to be Open Pandora however it no longer seemed to be supported and many of the features no longer work. My code is based of the Open Pandora project, but has the functionality that I was looking for.
Contribute:
Pandora Keys is open source. Please check out the project at and jump right in. Programmers, graphic designers, or just your ideas, whatever you skills may be you are welcome to join the fun.
Donate:

Do you like my work? How about buying me a coffee?
Disclaimer:
Pandora Keys is no way affiliated with www.pandora.com. By downloading Pandora Keys you claim full responsibility for the use of this application.