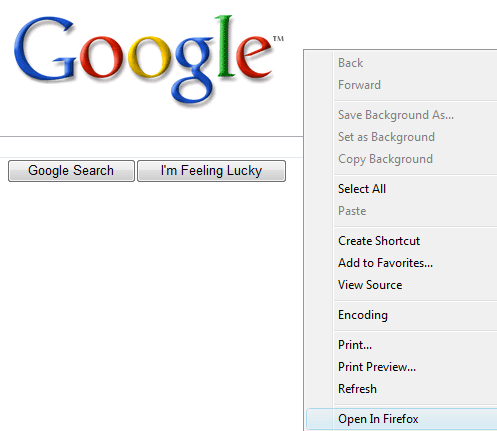 As a web developer, I am constantly testing my websites in many browsers. Particularly Firefox and Internet Explorer. Firefox was built around the idea of extensibility. There are many add-ons that allow you to customize Firefox the way you want. One great add-on is IEView this little tool allows you to right-click on any web page in Firefox and select View this page in IE, and as the name suggests it opens the page in Internet Explorer.
Now, what if I wanted to do the opposite?  The closest solution I could find involved manually modifying the registry, but it was this post that inspired me to write a one-click installation to install this capability.
Download Open In Firefox here.
Please leave me your comments and let me know if you have any troubles. This was tested with Vista IE7 and XP IE6 as well as 32bit and 64bit systems.
Requirements:
Mozilla Firefox
Microsoft .NET Framework 3.0 Redistributable Package (Only if the program will not launch).