WARNING: THIS PROJECT IS OUTDATED AND NOT MAINTAINED.  
Download:
Click here to download Jango Desktop from: https://samuelhaddad.com/jangodesktop/
Contribute:
As of 10/19/2009, Jango Desktop is going open source. Please check out the project at http://code.google.com/p/jango-desktop/ and jump right in.  Programmers, graphic designers, or just your ideas, whatever your skills may be you are welcome to join the fun.
Current Features:
Media Key support
Keyboard shortcuts

Ctrl + up rates the current song great
Ctrl + down rates the current song bad
Ctrl + right arrow rates the song ok
Ctrl + ? (no shift so really ctrl + /) shows the current song playing

Lyrics
Run from system tray only (Minimize to tray, double click icon to bring the window back).
Auto updater for new features
Screenshots: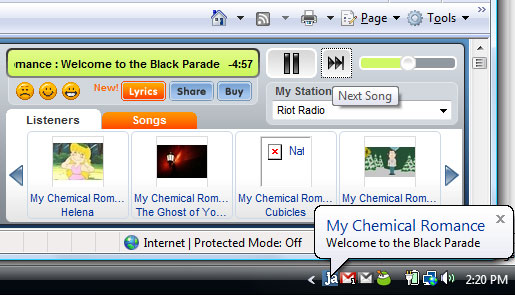 Requirements:
.NET 2.0
A Jango.com account
Enjoy listening to music
Why Did I make this?:
I am a big fan of both Pandora, Jango, and streaming music in general. I think they are great. However, I also feel that being a web-based application they lack features that exist in a desktop media player.  For example, keyboard shortcuts and notifications are features I cannot live without. I found that there is a desktop application for pandora that tries to remedy some of Pandora's flaws.  It is called  Pandora's Box developed by Daniel Mackey from http://cdfan.com for Jango there has been nothing until now.
Update History:
You can read all about updates and bug fixes here if you are interested.
Donate:

Do you like my work? How about buying me a coffee?
Special Thanks:
I want to give a special thanks to the following people:
for testing and finding bugs in the application.
Disclaimer:
Jango Desktop is in no way affiliated with www.jango.com. By downloading Jango Desktop you claim full responsibility for the use of this application.